Afghan Refugees in Iran
A young Afghan refugee in Zahmatkeshaan Plain lifts a brick, which will be used in construction. UNHCR/ M. H. Salehiara / April 2012
Iran has threatened to expel Afghan refugees and workers if Kabul ratifies a 10-year strategic partnership with Washington allowing US troops to remain in Afghanistan.
Humiliation and abuse of Afghans detained by Iranian police - Iran Rafsanjan May 2010
The police are forcing the Afghans to beat themselves and say: "I´ll never come back to Iran again", In order to collect foreign nationals who illegally entered Iran. The Iranian police arrested about 30 Afghans in the city of Rafsanjan in the province of Kerman.

More about Afghan/Iranian affairs here>
Afghans living in Isfahan (Iran) were banned from a mountainous park in the city on April 1
Afghans living in Isfahan were banned from a mountainous park in the city on April 1, the 13th day of Nowruz festivities, which Iranian tradition says should be spent outdoors.

Ahmad Reza Shafiei, an official with Travel Committee's police department, was quoted as saying that the reason for the move was "the extensive presence of Afghans" at the park in previous years and "the creation of insecurities for families." By that, he meant Iranian families.

But it was Iranians who quickly condemned the decision on Facebook and other social media.

"I am also an Afghan," some wrote as their Facebook status update. Others slammed the decision as "racist" and an "insult" to Afghans living in Iran.

There was also a report of a symbolic protest on April 1 at Sofeh Park.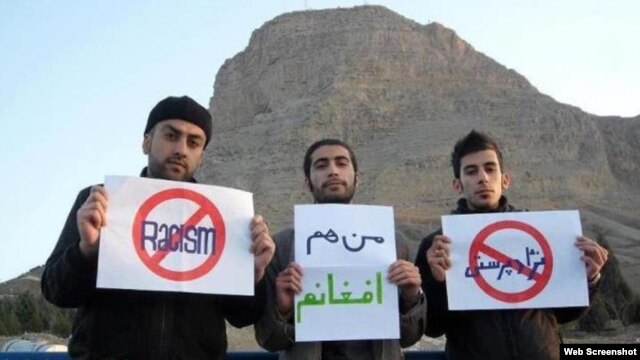 This isn't the first time Afghans in Iran have faced discrimination. There are reportedly more than a million Afghan refugees and thousands of illegal Afghan migrants in the Islamic republic.

Many of them moved to Iran following the Soviet occupation of Afghanistan and the civil war that followed the Soviet withdrawal. Others sought refuge in Iran after the Taliban took power in Afghanistan.

In recent years, reports of mistreatment of Afghans. A YouTube video making the rounds shows a group of Afghans being mistreated, apparently by Iranian soldiers, who tell the Afghans to hit themselves on the head, perform sit-ups, and say aloud, "We will never come to Iran anymore.".
Separate washrooms for Afghans and Iranians in Iran.
MADRASA
Madrasa ( in Dari = School )A film based on true story that portrays an innocent 8 year old Afghan girl Meena who wants to go to School, but circumstances and law in Iran doesn't allow her to do so. Her father Farhad goes to every extent so that his daughter can go to School and fulfill her dream of becoming a doctor. The story reaches a point where everything seems impossible but courage love and sacrifice makes its own statement. ( the trailer is somehow repeated half the way )
In Iran, Afghan children are not allowed in public schools, Only one child within a family can enroll, with full payment of the fee from afghans only whilst its free for others. For a man who works as a gardener in the municipal parks, $150 for every child is a lot. 
"Every time I see Iranian school girls in their uniforms going to and from school I get really upset. Tears come to my eyes because for an educated person it's very hard to have uneducated children," says Ghasser Nasseri.
Step by step Afghan refugees in Iran are being denied basic services - they're not allowed to buy medical insurance any more, to rent a house without government permission or open a bank account.
It's official Iranian policy that all the remaining one million Afghan refugees in Iran should go home within the next 18 months.
The education policy has sparked small protests by Afghan women and children outside UN offices and the Afghan Embassy.
"The sin of our children is only that they are refugees," read the banner in one such protest.
And in a sign of how desperate Afghan refugees are for education, informal schools have begun to open up in recent weeks.
Race through their eyes
A documentary by King's College London 2011 about Afghan girls living in Iran. This goes through their struggles and the pressures they face in Iranian society.

Iran is one of the country that holds great hate for Afghans. Afghan people out of bad days, unemployment migrate to Iran in hope for better payment, to bring home money to support their families. But that usually doesnt go well as they intend it. The government sticks all sort of accusations towards them treat them badly, jail them for crimes they didnt commit. over 3000 Afghans are sentences to death for crimes they didnt even commit, they are denied of their right to have a lawyer, they are not allowed to defend them selves, they just have to accept it and die. Their bodies are not returned to their families unless they " pay " for it; As most afghans don't have money, they never see their loved ones again. Let aside the government, the video above shows how even the locals treat Afghans on daily basis merely for being Afghan. I will re-post one of my posts i made about how Afghan people are treated in Iran. It is really sad to see such actions from neighbouring country a Muslim country who are suppose to help their Muslim brothers, but no.
5630 Afghans are in Iranian prisons and from them more than 3000 of them have been sentenced to death on the basis of final verdicts of the Supreme Court. Most of these people are have been arrested and sentenced to death on charges of drug trafficking as they say, Which is just another way of getting rid of all the afghan refugee's in Iran.
          The prisoners range from Children 12 to elderly people; one of which Ahmad, a 16-year-old Afghan jailed in Iran. He tells the story of his arrest for possessing 200 grams of drugs, which he insists were planted on him. Same is the case for many others wrongly accused of drug dealing or planting drugs on afghan refugee's just to arrest them.
          The worst thing is that they are never given the chance to defend them selves or hire a lawyer or contact anyone. There is just absence of normal criminal trials. Several of the Afghans say they were never brought to court to confront the charges against them — a right guaranteed in Iran's constitution and penal code.
"I have two wives and my kids back home," says inmate Mohammad. "I have always been suffering in life, and finally ended up here."
The court and its procedures are a mystery to him. "I have never seen the court, but have been notified that I am on death row," he says. "Really, I don't know if that is true or not." - [source]
If few of them were accused of drug dealing and put to death row through normal criminal trials then alright, but 3000 Afghan refugee which almost ALL the same case and as quoted above none seen the court or given the chance to defend themselves, Where is the human rights where they are suppose to be ?  

After they are executed the bodies are not returned to their families, unless they pay 3,400$ or more which most of them don't even make in years.
Masuma, 55, shouted, "Brothers, my son was executed in Iran 10 days ago and he was innocent. The Iranians won't let me have his body. They have executed my son and now demand lots of money from me for my son's corpse. What should I do? Help me for God's sake!" - [source]
They mask their killings by falsely accusing innocent people with " drug dealing " which they plant on them and then without even fair trials they are just put on death row so they wont defend themselves. Instead of just getting to their homes and shooting them, because it seams more neat and no one would talk much about it .
Car carrying Afghan workers overturned several times & rsulted in Killing few and wounded dozen in Iran. As you see those people standing by are Iranian who refuse to help another human being because of their nationality just because they are afghans.
That is the Cruel truth for all afghans nowadays, They are treated like trash everywhere. Afghans are so nice and sweet people its sad people would judge you and treat you like this because your passport says " Afghanistan " . What evil have we done to deserve this ?